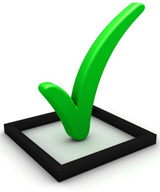 Easy SEO Checklist
One of the most often asked questions related to small business web design is on the subject of SEO or "Search Engine Optimization". Simply put – how can my website get found on the search engines?
There are a lot of ways to improve your search engine ranking…more than we can put in one little blog post. But here is a helpful little guide for beginners so that you can have the basics down.
1. Use your words
Search engines love content. The more words you have on the page, the more likely the search engines will like your page. This has to be balanced with keeping your website succinct and easy to read for your users, but make sure you have good content on each page describing your products, services, etc.
2. Have a good title tag

Look at the very top of this page – see where it says "Fresh Look Web Design | Easy SEO Checklist"? That is the title tag.
Essentially what you want to do in your title tag is put the name of your business, and a very brief description of what you do.
So for example, a fictitious auto mechanic shop in Chicago called Joe's Professional Auto would have a title tag something like this:
"Chicago auto mechanic and car repair shop – Joe's Professional Auto"
That way if someone looking for a mechanic in Chicago types "Chicago car repair" into Google…well what do you know, Joe has that exact phrase in his title tag.
"Chicago auto mechanic and car repair shop – Joe's Professional Auto"
3. Use text instead of images for links when possible
Search engines can't read what an image says. If possible, use text on a background image instead of just an image. It requires more work and expertise to create that type of link, but in the long run the search engines will thank you.
4. Put physical address on every page
There are indications that Google puts more trust in your site if you include your physical address on every page. It also helps build trust with your customers if they know where you're actually located.
A couple good places to put your address on each page is at the top (www.tidewaterrcd.org) on a menu on the side (www.chincoteaguechamber.com) or at the bottom (www.cross-associates.com).
5. Link your social media to your website
Every business should at a bare minimum have a Facebook business page. Whether you have just Facebook, or a large number of social media presences, make sure they have a link to your website.
6. Write a good meta description
The meta description tag is a bit of HTML code in the head section of the document. You'll sometimes see the meta description tag in the search engine results pages (SERPs).
What you put in the meta description tag is simply a brief description of your business and maybe some specific information about the page it's on.
Do your best to include a couple good keywords, but make sure it's readable and helpful to your potential visitors. Here's what our meta description says:
Fresh Look Web Design is a full service graphic design and web development company serving Hampton Roads and all of Virginia.
Notice that we not only describe our business, but include some good keywords as well.
7. Put good keywords in your h1 tag
Each page should have a header at the top identifying the page. Search engines specifically look for the h1 tag on your page. It should appear one time and include a keyword if possible.
It's not enough to just have larger, bold text at the top. It specifically needs to be an h1 tag.
8. Use a readable URL
Sometimes when a website is setup in a CMS, the URL's for each page are not search engine friendly. Here's an example of what they might look like:
http://freshlookwebdesign.com/index.cfml?productid=3&categoryid=5 to go/productid/3/categoryid/5
Not very search engine friendly. Instead, it should say something like https://freshlookwebdesign.com/website-services/custom-web-design/
You want to include a good keyword in the URL if possible as well.
Using these tips will go a very long way in making your website search engine friendly. Even if you can't implement all of them, even just a few should improve your position in the search engines and bring more visitors to your website.