Improve Organic SEO with Local Directories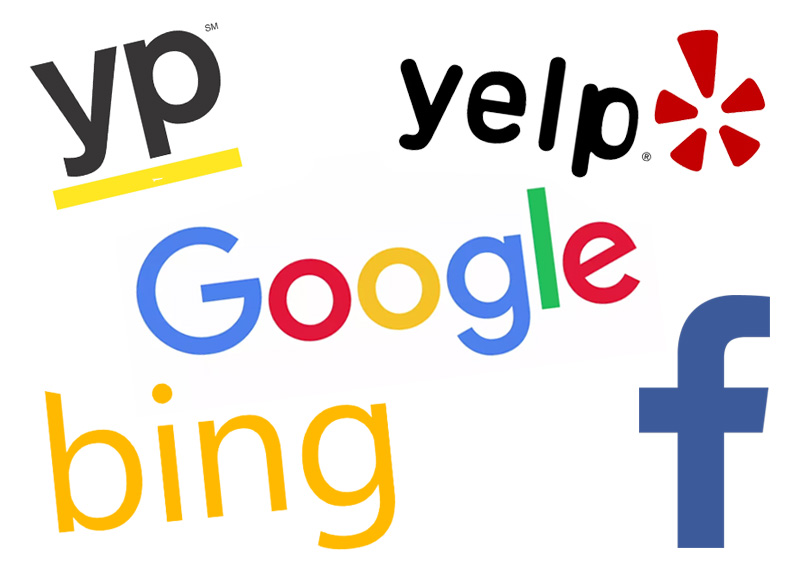 Getting your website to rank well with Google and the search engines is obviously very important. But how do we achieve that? There are lots of different ways such as blogging and organic search engine optimization. Another good way to improve your website's SEO is through building your website's digital footprint through local directories.
An online local directory is a listing of businesses in a certain geographical region. It's basically what used to be the phone book, only online.
There are countless directories online to choose from. Do you add your website to all of them? It can't hurt, but you probably don't have the time. Instead, we recommend adding your business to the Big 5 directories: Google, Bing, Facebook, Yelp and the Yellow Pages.
What is the purpose?
Some skeptics may say that you're unlikely to get a lot of traffic from local directories. That's a true statement. You may get some, depending on your market, but not much. The real purpose of being listed in directories is to improve your standing with Google's search engine. Google looks at local directories, and when they find your business listed, it helps your ranking.
That's why it's important to make sure that you are listed and that your business is claimed in the top 5 local directories.
We should note here that it's also very important to make sure that your information is consistent across the directories. If your contact info is different in some places it hurts your ranking.
The Big 5
Here are the directories we call the Big 5 that you should definitely claim and optimize.
1. Google My Business
If you're going to do just one directory, this is the one. Google gets over 60% of all searches on the internet, and many searches on Google for local businesses will display a list of local businesses at the top that's pulled from Google's directory.
This also ties into Google Maps, which many web and smartphone users take advantage of when they need to use GPS to find an address. We're talking about a lot of potential users visiting your Google My Business page.
Click here for directions from Google on how to create or claim your listing - https://support.google.com/business/answer/2911778?hl=en
2. Bing Places for Business
Bing's local directory is fairly similar to to Google's. When you go to Bing and search for a local business, sometimes Bing will display a list of businesses from their directory at the top.
Click here for directions from Bing on how to create or claim your listing - www.bingplaces.com
3. Facebook
The social media giant is intriguing in that it has a lot of potential even outside of Local SEO. Particularly if your business is a restaurant or local business that has customers come to your location.
Having a Facebook Place (sometimes combined with a Facebook Page) gives reinforcing information to Google about your business. Just make sure that your information is consistent across all your different accounts.
Click here for directions on how to merge a Facebook Place with a Facebook Page - http://scoutdigitalmarketing.com.au/social-media/how-to-merge-your-facebook-page-and-facebook-place/
Click here for directions on how to create or claim your Facebook business Place - https://www.seoinc.com/seo-blog/how-to-add-your-business-to-facebook-places/
4. Yellow Pages
YP.com is not nearly as influential as it used to be, but it is still big enough to take the time to make sure your listing is added and optimized. Getting a couple 5 star reviews will make your business stand out quite a bit on YP, since most businesses don't have any reviews.
To add your business to YP follow this link - http://www.localseoguide.com/how-to-add-a-business-listing-to-yp-com
5. Yelp
Yelp is a little bit of a wildcare in this list, as depending on your business it may be very beneficial, or it may not. But again, the focus here is link building for Google, and regardless of what type of business you have, claiming and making sure your information is accurate is important.
If your business is a restaurant, bar, coffee shop, etc. then making sure your listing is claimed and optimized is very important, since a lot of people will go directly to Yelp rather than Google to find a business.
But even if your business is something like lawn care or web design, you will still get the benefit of being listed and found by Google.
Go here to see if you are listed on Yelp - https://www.yelp.com
Go here to add your business to Yelp - https://biz.yelp.com/signup_business/new
Hopefully these suggestions will help you improve your website's SEO. If you need any help with your website please let us know.
Related Articles