Article Archive
Make your Web Content Look Amazing
In a past article on how to write great website content we talked about what to write about. Now we're going to put that to the side and talk about how to style your web content. This is helpful for those of us who manage our own websites; it's also helpful if you have someone do it for you because now you can know what to look for.
Text on a page is boring right? Answer - it doesn't have to be. Here are a few ideas on how to make your content look interesting.

1. Use white space
White space is simply the extra padding in between the words and whatever the words are next to. So for example, in this article the words are on a white background, and next to it is a gray background. The gap in between where the words stop and the gray background begins is the white space.
White space makes your website look less cluttered. It also makes it much easier to read. Help out your readers by making sure that you have some extra white space around your text.
2. Make sure the font size is readable
A good rule of thumb is that it's better to be on the safe side when it comes to font size. A lot of people (and I'm one of them) prefer the look of a smaller font. But it's best to make sure that everyone can read your text very easily.
3. Use the correct background
While we're on the subject of readability, let's talk about colors. We've mentioned this before in 8 Website Blunders to Avoid, but it's very important that your text be a very dark color on a very light background. It doesn't have to be black on white, (although that is very common) and there's nothing wrong with dark gray or dark blue, but make sure there's a very stark contrast between the words and the background behind it.
One thing we didn't mention in the previous article is that it's also OK to reverse it and have a black background with white text. Sometimes this looks good on an "artsy" website for a photographer, rock band, etc. Just keep in mind that it is harder to read white text on a black background so make sure you compensate for it with extra white space, font size, and...
5. Line spacing
Line spacing is the gap between subsequent lines in a paragraph. The following paragraph does not use enough line spacing:
Fresh Look Web Design, LLC is a graphic design and web development firm that specializes in working closely with our clients to help them achieve business goals. We believe our job goes beyond just creating graphics and coding HTML - it's about helping our clients use their website effectively.
Not quite as easy to read is it? Adding some line spacing is a very subtle way to make your text more readable. Sometimes you can get away with using a smaller font size or lighter color if you have good line spacing.
6. Use some photos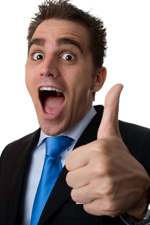 Conveniently, we just wrote an article on how to use pictures in your web content. The second item in that list is to "Use Scattered Images". If you didn't read the article what we mean is this - when you have a lot of text, make it look more interesting by putting a relevant picture next to the text to break it up. It will just make everything look much more interesting and professional.
7. Include some hyperlinks in your content
Hyperlinks serve a dual purpose in this context. First and most importantly, they direct your users to other interesting content that they may way to check out. But secondly, the links look nice.
Look at the link above. The added color just makes that paragraph look a little bit more interesting. Granted, the link isn't very descriptive so some people won't click it, but that's OK in some cases because maybe you're just adding some color to the paragraph.
Writing for the web is a difficult task for anyone. Remember that it's harder to read text on a computer screen than on paper. Using these suggestions will help grab the readers attention and help you reach your online goals.