Are you ready? This is probably the best way to save your company lots of money. Don't pay a professional every time you update your website. Don't hire a full time employee to manage your website for you. Do it yourself. Or hire an intern to do it for you. It's EASY. Here's how it works:

Get a web developer or someone to help you set up your website into a "Content Management System" (or CMS). A CMS is just a way to manage your web content easily. The most important feature about a good CMS is that you don't have to know HTML or how to code or program. That would be a good thing.

The concept behind each CMS is the same. Your website is setup in templates, with pages associated with each template. You don't usually change the template, but rather the content inside the template.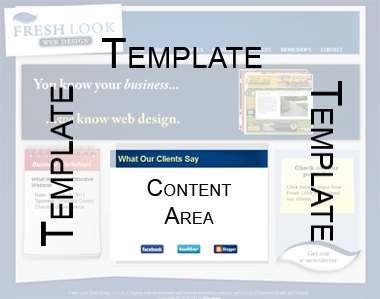 Some CMS's only let you change the content area. Others let you edit the template as well, although that usually requires HTML coding. Below we'll take a look at a few CMS's and the pros and cons:
Dreamweaver Templates
Although maybe not technically a CMS, having a site set up in DWT's is a common way to manage your own website.

Pros:
Complete control of your site
Simple
Doesn't require a database
Extremely mobile
Easier to undo mistakes
Not too difficult to change template
Cons:
Requires file upload - computer skills required
You have to purchase the software (about $250)
Takes longer to make changes (have to wait for files to upload)
I actually have moved away from Dreamweaver Templates recently. They're nice, but there are better options out there. Plus the lack of plugins means that if I want to add dynamic content like an interactive calendar than I'm out of luck.

Grade: C+

2. Contribute

Also by Adobe like Dreamweaver, Contribute is actually compatible with Dreamweaver Templates. This software is a step down from Dreamweaver, and simplifies a lot of what DW can do.

Pros:
Very simple
Cheaper than Dreamweaver (about $100)
Hard to make mistakes
Extremely mobile
Cons:
Can't change the template very easily
Have to purchase software still
Can be buggy
Contribute is a good starter way to test the waters of updating your own website. It's much easier than Dreamweaver since you don't have to worry about uploading files. But it's very limited, and if possible we recommend trying something else.

Grade: C

3. WordPress

WordPress is a blogging platform which can also serve as a CMS for your website. WordPress is popular and easy...and if you like blogging it is ideal.

Pros:
Very easy to use
Free
Great for blogging
Has many plugins such as shopping cart, contact form, SEO, etc.
Widely supported so if you have a problem, so do other people. Google it.
Easier to add new pages than Dreamweaver or Contribute
Cons:
While it does have a shopping cart plugin, it's not great for e-commerce
Limited in functionality. The plugins are generally basic. A large, professional corporate website would need more than WordPress
It's not developer friendly. Upgrades to the system may cause bugs, requiring you or your developer to fix it.
WordPress does come with plugins, and can now do more than just blogging, but it isn't ideal for larger websites. If you love blogging, and have a small website, it is a good solution.

Grade: B+

4. Joomla

Joomla is a very robust, sometimes complicated CMS designed for any size website. Fresh Look Web Design uses Joomla more than any other CMS because of the flexibility and performance it offers our clients.

Pros:
Free
Has fantastic plugins, particularly the calendar, business directory, and SEO upgrades
Developer and designer friendly
Easy to create multiple templates
Very widely supported and great community of developers
Easy to modify template and add pages
Cons:
Can be more difficult to learn if not trained properly
Not as intuitive as WordPress
Joomla's biggest strength is the additional plugins you can install. JEvents, the calendar addon, is an invaluable tool for many of our clients. Here is an example of it in action. The business directory is also very robust. It's great for Chambers of Commerce - here is an example. There are hundreds of other plugins to choose from depending on your needs. The only downside is that because there is so much to Joomla, one can get lost without help.

Grade: A+

Here's our recommendation - if you want a website, you need to update your website. If you update your website, you need to do it cost effective...which means you need a CMS. Our top choice is Joomla, but pick the one that fits your needs the best.
Related Articles