Article Archive
What is Instant Personalization?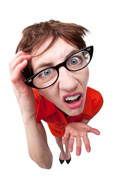 Instant Personalization by Facebook has long been in the making (since April of 2010) but only recently has it been implemented. So what is it exactly?
Essentially, Facebook is now sharing part of your personal profile with other websites. It seems really scary at first, and many users have a right to be freaked out by this concept, but it might not be quite as dangerous as it sounds.
First of all - it's only a select few websites. Rotten Tomatoes, TripAdvisor, Clicker, Pandora, and Yelp as well as a couple more are the sites your information is being shared on.
Secondly, it's not sharing private information with non-Facebook friends. So whatever information you have set as public (who your friends are, your profile picture and your name) will be available - not your home town, status updates, or anything like that. In other words - they can't see anything that they couldn't already see by going to your Facebook page.
The idea behind it is to make the sites even more social and more personal. Take movie review site Rotten Tomatoes for example - when you go to their page, you'll see that some of your friends like a certain movie. They can also see what movies you like.
It's basically taking some of the information you've already given to Facebook and sharing it on other sites. Friends can see it, but no one else.
Let's say that your friend Bob clicks the "like" button for the movie Gone with the Wind. When you go to Rotten Tomatoes you will see that Bob "likes" that movie, and you may be interested in watching it yourself.
What Facebook users are particularly annoyed with is that Facebook automatically installed this feature...rather than it be an opt-in feature, you're enrolled automatically. It's a little unsettling to go to a new website that you've never been before, and for it to have a picture of you with your name on it. How did they get that info? Well, it's public information on your Facebook page. But that doesn't mean it isn't going to freak out a lot of people.
What you should do
First of all, make sure you know exactly what information is public and private on your Facebook page. We do not recommend letting non-friends see your pictures. And if you're even just a little bit private, make sure that friends of friends can't see your pictures either.
Secondly, if you feel uncomfortable about Instant Personalization, then just opt out. Here's how you do it (it's kind of hidden):
Go to Account > Privacy Settings > Apps and Websites > Instant Personalization > Edit Settings, and un-check "Enable".
The important thing to know is that as long you are comfortable with your privacy settings for Facebook itself, then you have nothing to be worried about as far as security. Nothing not already public is being shared...the only difference is that now it's being shared in several different places. However it would still be nice if Facebook was a little more sensitive about sharing our information with other websites.